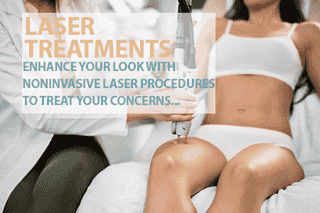 Laser Treatments
Try our non-invasive laser treatments to treat dark spots, toenail fungus, skin tightening and leg vein removal.
Leg Veins
An easy, fast, and effective way to get rid of pesky, superficial veins. Make unattractive spider veins disappear in four to six weeks with an easy and quick treatment.
Dark Spots
Make dark spots disappear in any area with a quick zap, and achieve the flawless complexion you desire.
Nail Fungus
One of the safest solutions to getting rid of irritable toenail or fingernail fungus Go back to comfort with our treatment.
Skin Tightening
Available for the face, neck, and abdomen; skin tightening is the perfect solution to achieve a more toned and sculpted physique.